A comprehensive funeral service for Uttoxeter and the surrounding area in a relaxed setting
Our Co-operative funeral service branch in Uttoxeter High Street was refurbished in 2016 to create a homely interior where people could feel relaxed when discussing sensitive matters.
New furniture, carpets and floral displays were brought in, along with inspirational artwork to give the funeral home a fresh look and uplifting atmosphere.
The result is a place where families can find both comfort and peace. The main reception area has the air of a living room with a cosy settee and an oak sideboard, while the arrangement room has been fitted out with a table and chairs to provide a more formal setting.
The chapel of rest has undergone a makeover too with pictures of butterflies on the walls designed to symbolise resurrection, like the caterpillar that appears dead when it makes a cocoon, but emerges as a butterfly.
This theme is picked up in the cushions scattered on the sofa in the reception area which is also adorned with butterflies, providing a sense of co-ordination.
Funeral director Tina Goodwin said: "We deliberately keep the blinds open as well to make people feel welcome and dispel any idea they may have of a funeral home being a gloomy place. The opposite is true here, especially after the refurbishment. It's a light and airy place, with an optimistic feel to it which we believe is important to cultivate, even in difficult times, because it gives people a sense of hope.
"The overall aim is to provide a home from home environment where families can talk over their requirements, either from the comfort of a sofa or in the more formal setting of the arrangement room. It's up to them. We also offer them refreshments when they come in."
New office equipment completes the modern look given to the funeral home which was once a butcher's shop. Original tiles upstairs provide a clue to its former use.
The branch can provide information on a wide range of funeral services, including details of local catering establishments offering competitively priced buffet menus for the funeral reception.
Uttoxeter Funeral Home Staff
Tina Goodwin has worked in the funeral industry for more than 10 years and holds a Diploma in Funeral Directing (Dip.FD) from the National Association of Funeral Directors.
She has worked at the Uttoxeter branch for around five years and is a familiar face in the town. Originally from Kent, she moved to the area when she got married over 30 years ago and has stayed here ever since.
Tina can regularly be seen walking at the head of a funeral procession as a mark of respect.
She said: "I came into the funeral service through losing my sister and husband in close succession. I'd have said no way if someone had said to me before this happened that I'd be doing this type of work, but life takes you down so many different paths. I saw an advert for a funeral arranger and thought I'd apply.
"It's the best thing you can do for people at a time when they are grieving to take care of their loved one and to treat them as if they are a member of your family. Every funeral is so important," says Tina.
The former social services administrator often goes beyond the call of duty to offer support to families after the funeral service is over, meeting them for a cup of coffee or inviting them to call in and see her.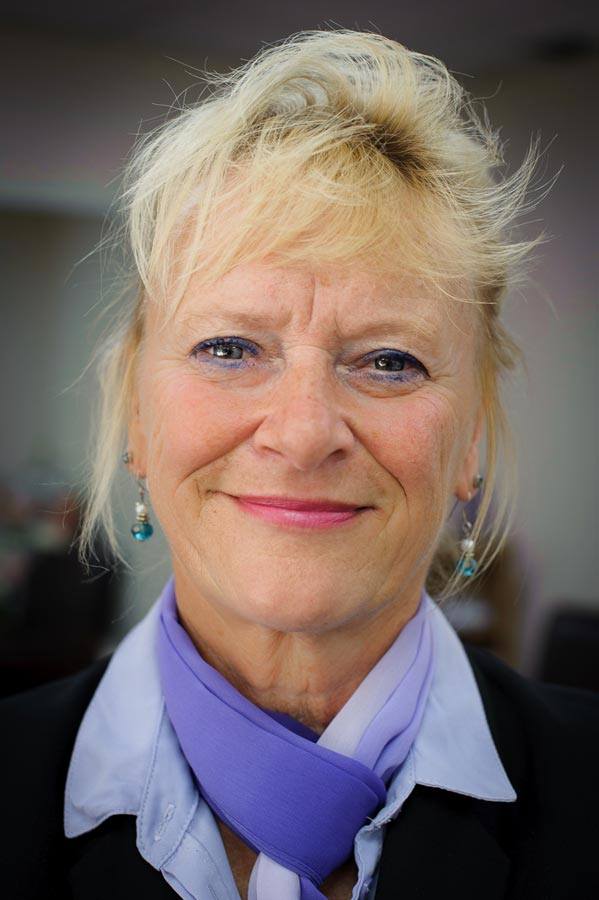 For years Jane Harrison was the first point of contact at her local church for people arranging baptisms, weddings and funerals.
As a parish administrator and church warden at St Giles the Abbot in Cheadle, she dealt with families going through the emotional highs and lows of life.
Now Jane organises funerals for families, drawing on her long experience in the church to ensure that everything runs smoothly and relatives get all the advice they need. She supports them through the process, providing information on the different styles of service available, as well as other aspects of the ceremony, such as the flowers and transportation. Her other duties include liaising with clergy and celebrants, and arranging the reception afterwards.
"It's a privilege and an honour to be doing this work. For many years I was a receptionist and I love being in the service industry. It's so worthwhile and rewarding to know you are helping families at such a difficult time," says Jane who joined the Uttoxeter branch as a funeral arranger in May 2016.
"You get a real insight into people's lives and it doesn't stop at the funeral. They still pop in afterwards to see us in many cases. It's also very varied. I don't just talk about funerals all day. I also give advice to people about our services, such as our pre-arrangement options."